√ Over 20 Years == √ Factory == √ Own Exporting License == √ Quality Control == √ Competitive Price == √ Own Technology == Short Delivery Time
(24 HOUR ONLINE,BEST PRICE,FAST DELIVERY AND GOOD QUALITY!)
1)

Main products

: PP Yarn,Polypropylene Yarn,PP Multifilament Yarn,PP FDY Yarn

2)

Certification
: GB/T 28001-2001
ISO14001: 2004
ISO9001: 2008 Standard
SGS Report
ISO14000 ISO 9000
3)
Qualification
:Deviation of line density+-3.5%
Strength at rupture 2.g/d-6.0g/d
Percentage of elongation30%+ - 10%
Shrinkage in boiling water 3.3+-1.5
Oil rate 4.0+-0.6
4)
Product Details
:
Name

pp multifilament yarn,pp yarn,FDY yarn

Composition

polypropylene

Details

Technic

FDY

Weight range

300D-1500D

Filament

45F/60F/72F/120F/130F

Carton Size

L 66cm X W 33cm X H 30.5cm

Bobbin

Height 150mm X Outer diameter 90mm X inner diameter 75mm

Package

5.0 kgs /Bobbin, 4 Bobbins into a Carton.

Feature

Eco-friendly,water resistance, etc

Usage

Webbing,Rope,Sewing Thread,Safety Net,Elastic Band,Container Bag,Sling belt,Geo-Textile,Artificial Grass etc

Benefits

Dope dying for various colors,Water resistance,Recyclization,High stiffness,High impact stress,UV stability,Intermingled (25 point per meter)

(A) Regular tenacity : of 1.8- 2.5 gm per Denier.
Denier Range : 300D, 450D, 600D, 840D and 1200D.
End uses : a. for manufacturing Narrow-Woven Fabric.
b. Polypropylene Cloth
(B) High tenacity :

of 3.5 gm/Den - 5.5 gm/Den for industrial use.The product can add U.V. stablised.


Denier Range : 300D, 450D, 600D, 900D and 1200D.
Color Range : Wide color range as per requirement can be supplied.
End uses : a. High strength Narrow-Woven fabric (tape).
b. High strength fabric.
c. Twinning for fish net.
d. Stitching yarn for pay closing.
e. Filter cloth.
f. Geo textiles.
g. FIBC (jumbo) bags.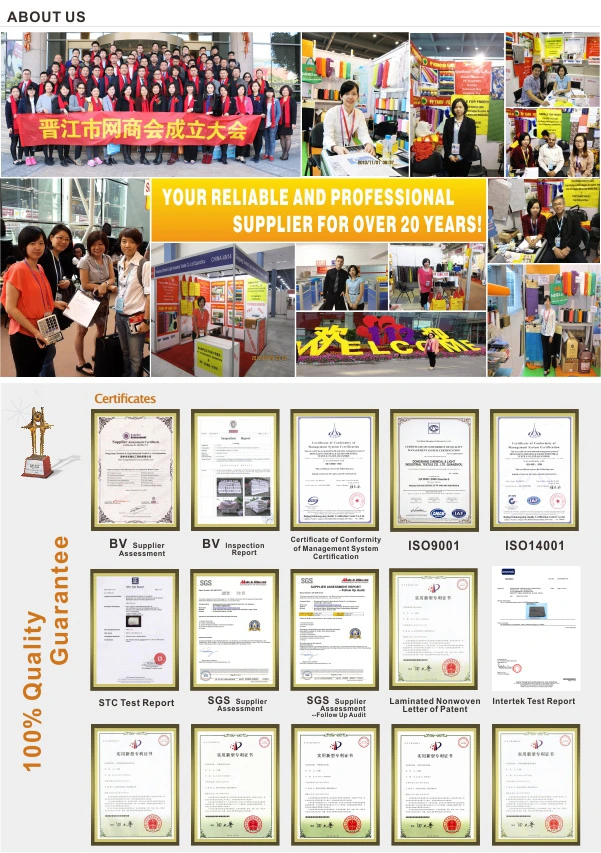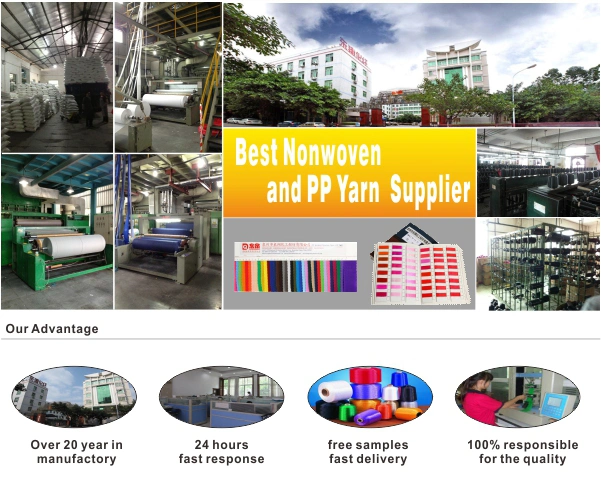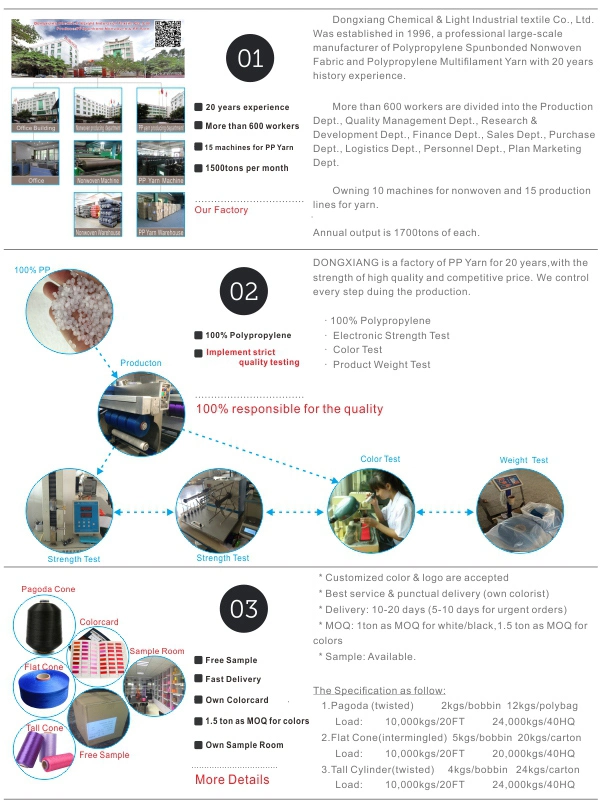 Contact Us
Atten: Ms.Sibyl Hung
Mob./Cell: 0086-13599755808
If you are interested in our PP Multifilament Yarn,PP Yarn,FDY Yarn,
pls do not hesitate to contact us at any time !